Surrender to the stillness and sweet seclusion of Āpiti life – discover a weekend at The Last Church in Āpiti.
Day one: Palmy to Āpiti
I arrived on a Saturday afternoon in the middle of winter with Google Maps providing easy to follow directions along the way. It took about an hour to drive up from Palmerston North with idyllic rolling pastures and the Ruahine ranges aglow against the setting sun. Part staycation, part day of yoga with friends – the idea for this weekend getaway was born in the midst of an NZ lockdown in May when we were all reminded of how blessed we truly are to live in Aotearoa and that there are so many hidden gems to discover in this slice of paradise. The Last Church in Āpiti definitely being one of them.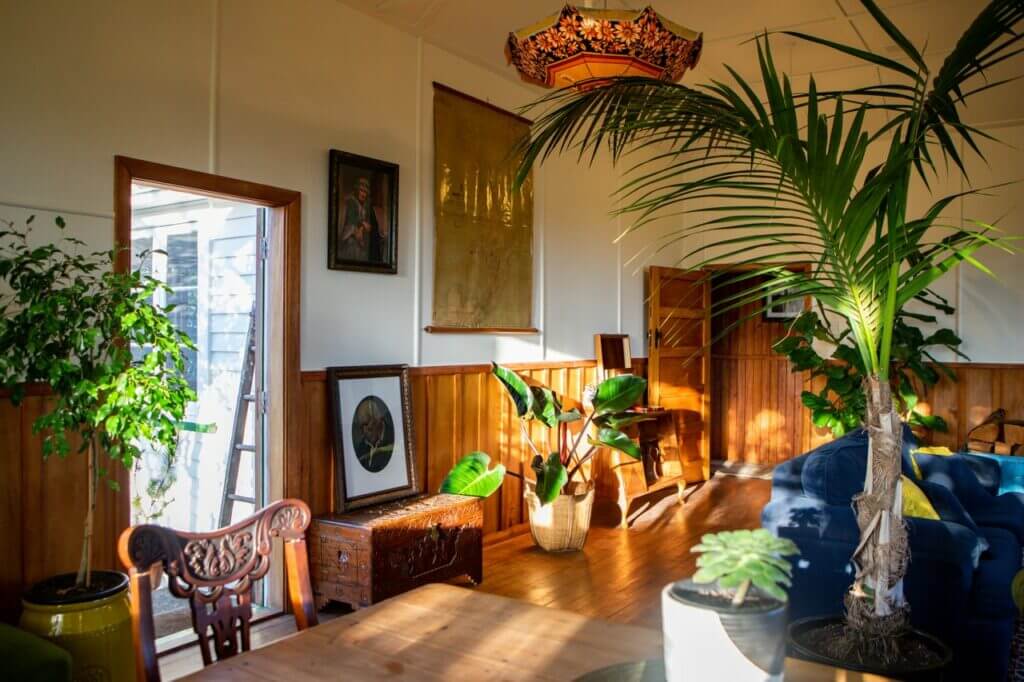 First impressions
A quiet, wide road with plenty of on-street parking, it's easy to spot the Last Church in Āpiti. Down the street from the fire station and around the corner from the iconic Āpiti Tavern, the 2-bedroom cottage is tucked behind the picturesque white church with green doors and framed perfectly by a graceful cabbage tree.
Entering the front yard, one of the first things I noticed was the generous pile of dry wood stacked neatly under a shed. Given the freezing temperatures forecasted overnight, this was a very comforting sight. There was a pair of bikes just waiting for a cruise around the village (with helmets provided too).
Walking up towards the front door, I spotted a large outdoor table and benches in the garden area where bright yellow daffodils were already in bloom as well as an old school chalk board to check yourself in or out – a personal touch that made me smile.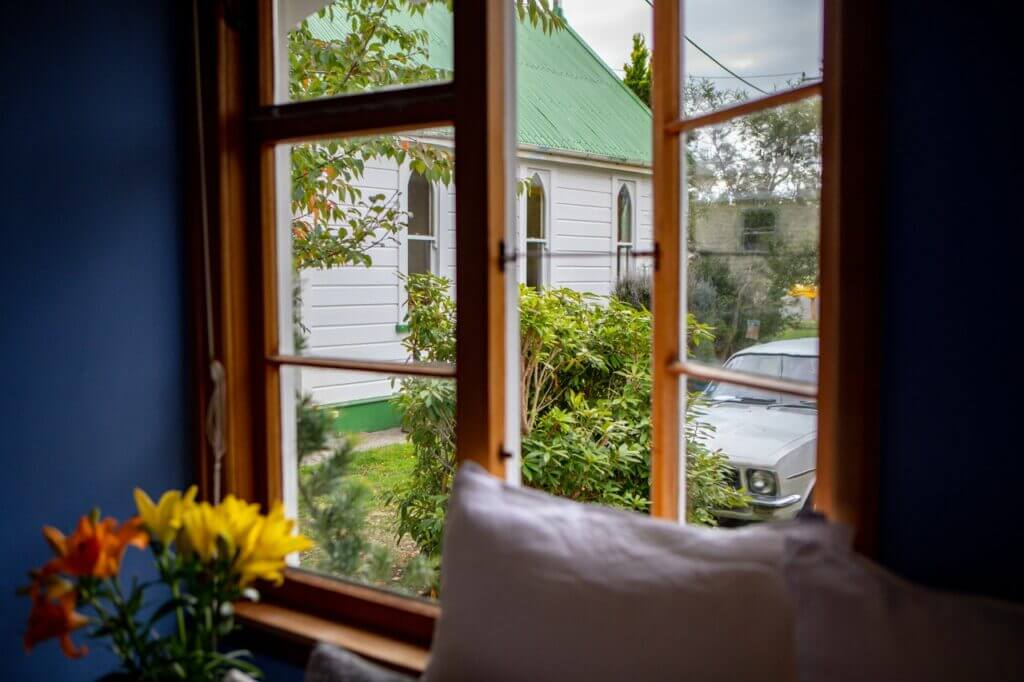 History, culture and a bit of rock n roll
Like stepping into a living museum, the hallway entrance beckons you to kick off your shoes, hang up your coat and discover a space that honours the history of Āpiti as well as an eclectic mix of Kiwiana and other cultural treasures.
When I entered the kitchen, I experienced a strong feeling of déjà vu. The native timber walls, the hanging lights and even the black panther bar all felt strangely familiar – even though this was my first visit to the Last Church. Perhaps linked to my affinity with backcountry huts or maybe a sign of the good times yet to come?
I continued my exploration to the whimsical, wonderful lounge – larger than life palms, bright coloured umbrellas, a vintage piano and even a Tibetan singing bowl, the mood is warm and inspiring. It felt like an escape to a place where time stood still – to where I joyfully dabbled between cups of tea, journaling and yoga by the fire.
You'll also find plenty of good reads in this open space – from well-known classics to local Āpiti history, a field guide to NZ native trees, or the proverb filled Mauri Ora: Wisdom from the Māori World.
With large windows and tall ceilings, this former Sunday School room is an oasis for indulgent evenings by the fire or breakfast under festoon lights. Both of which I thoroughly enjoyed during my visit.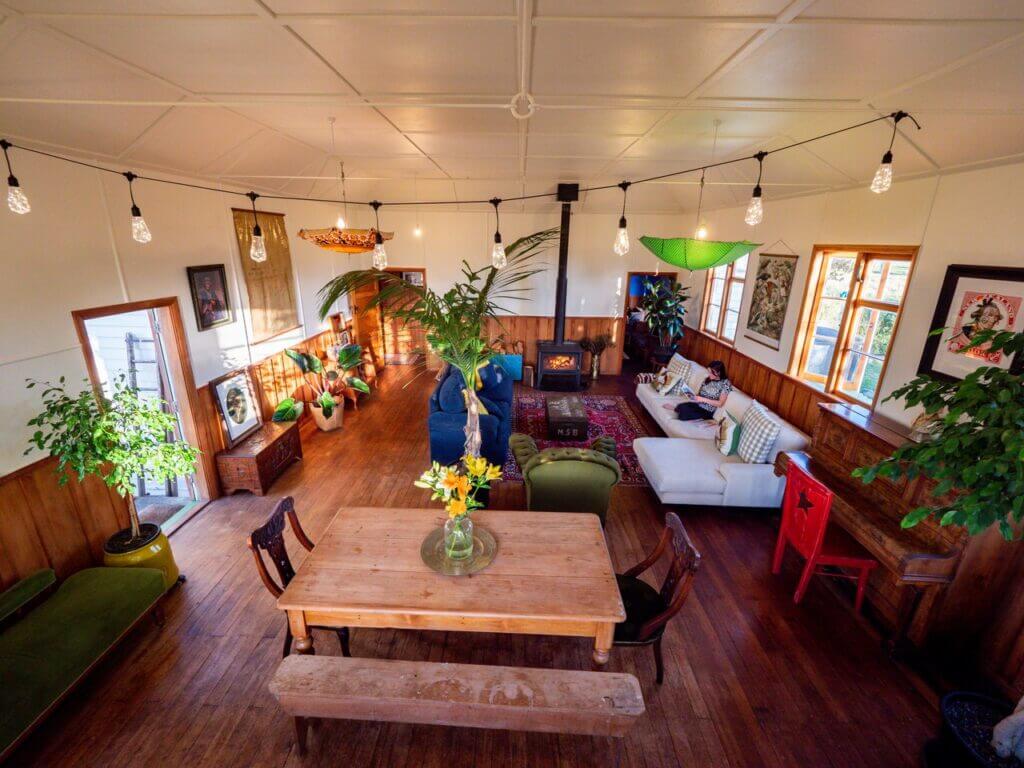 Under the dark skies of Northern Manawatū
If you can pry yourself for a moment outside, then you're in for a special treat. Perched above a wooden deck is an indulgent outdoor bath in your private backyard – facing west to catch the sunset and ideal for some splendid stargazing. My stay on a quiet winter's eve with clear skies meant I was spoiled with the most spectacular sunset and night under the stars. The beautiful Āpiti grown lavender and Kereru natural skincare products available also made for some luxurious post-bath pampering.
Bedtime is an indulgent affair with immaculate bedding that feels crisp and sun-dried, with plenty of fluffy pillows for the ultimate unwind. The mood lighting is perfect with a collection of bedroom literature to flip through to invoke the dreamiest of dreams.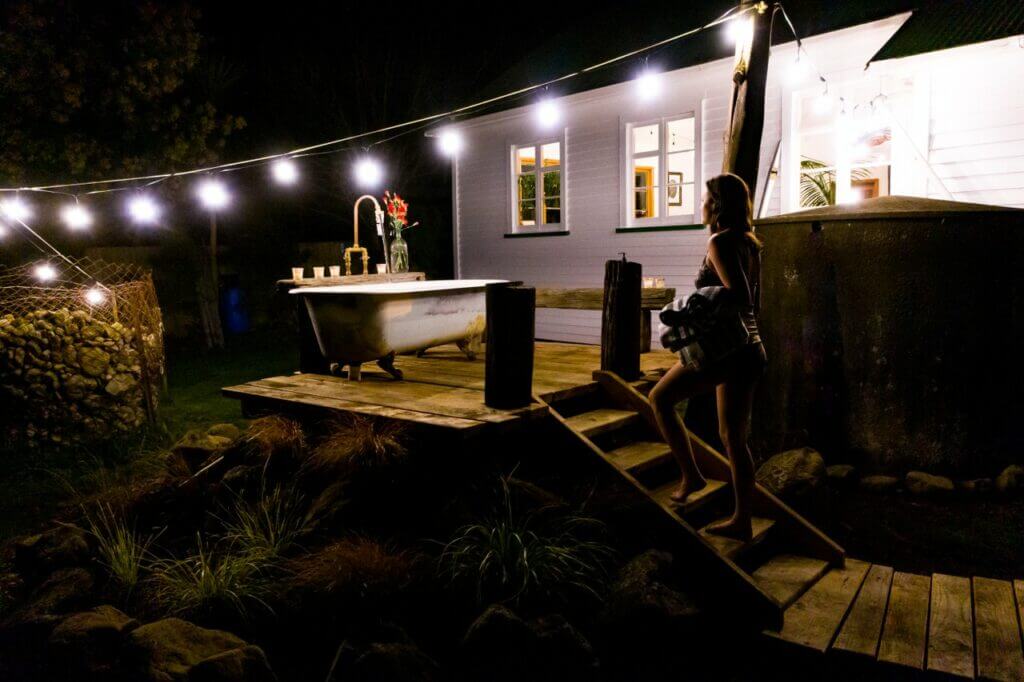 Day two: Rise and shine
I woke up to a crisp winter's morning refreshed and ready for a day of yoga with friends. The first thing I did was restart the fire which was quick and easy to get going. I bundled up and walked outside to the breath-taking beauty of a new dawn. The crunch of my boots against the frozen blades of grass was all I could hear in the serenity before sunrise.
I unlocked the church doors and couldn't help but bow my head in this sacred space. The stories and truths that these four walls held was enough for me to whisper a quiet waiata to honour the moment. As I turned on the heaters to warm up the room, the twilight skies transformed into shades of blue to pink and streamed into the lancet style windows of the Last Church. I found the space even more inspiring and couldn't wait for the days gathering to unfold, excited for my friends to arrive.
A unique, sacred space for get-togethers
Holding a day of yoga with friends in the Last Church of Āpiti sounded like a brilliant idea and it really was. Jemma and Alex were more than happy to accommodate our group and made every effort to make our get together run smoothly.
There was plenty of space for 10 yogis to fill the church comfortably plus room for a teacher to demonstrate postures along the centre aisle. We brought our own mats and food for the day to relish in a shared lunch together.
Even though it was mid-August, we were able to enjoy yoga inside the church in the morning with the beautiful doors wide open and the warm sun pouring in from the large windows.
After lunch, under blue skies and sunshine, we decided to continue the afternoon session of yoga on the front lawn. It was an extraordinary Sunday in the quiet village of Āpiti – to walk by the Last Church and see a group of aspiring yogis stretched out in downward facing dog, attempting headstands and in peaceful tree pose.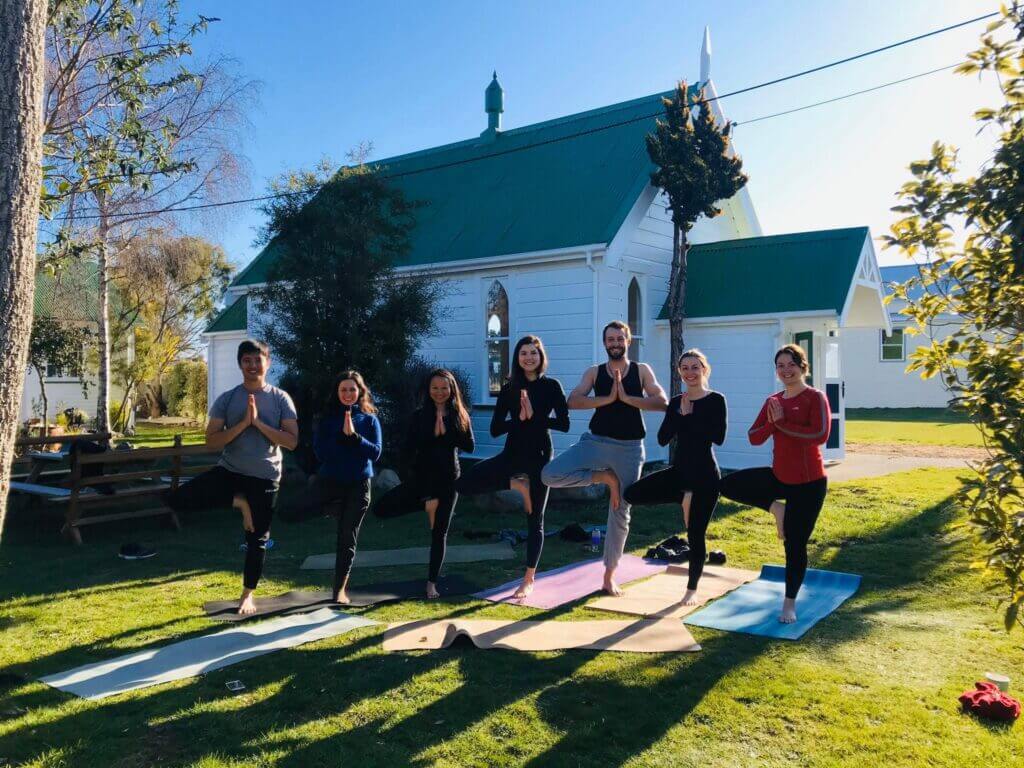 So if you're looking for unique accommodation with heart and soul, or a venue space for intimate get togethers, The Last Church in Āpiti in the mighty Manawatū deserves your undivided attention and is where the pursuit of happiness comes easy.