A long weekend in Manawatū can be just what active explorers need. Or if you're a local, make sure you get amongst the natural wonderland this region offers and tick off these three very iconic Manawatū hikes. Accessible to a range of fitness levels, you can also enjoy these hikes with tamariki in tow.
Day 1: Te Āpiti Manawatū Gorge
A national taonga nestled in outskirts of Ashurst and Palmerston North, Te Āpiti Manawatū Gorge is where the Ruahine and Tararua ranges meet – with the dramatic landscape and great divide known as Manawatū Gorge ever flowing from east to west.
There's a large parking area with toilet facilities before you pass under the intricately carved entrance way – as the cultural history and legends of this place come to life right from your very first steps.
Popular with walkers, hikers, and runners alike, the 4 km Tawa Loop track takes you from flowing streams and waterfalls through to stunning nikau palms, tawa and podocarp forest, as well as beautiful look out points along the way. The steady 5% gradient definitely offers a nice cardio challenge with a beautiful variety of wildlife including native birds and plants that will keep budding active explorers happy as along the way.
If you're an early bird, the morning light at Te Āpiti Manawatū Gorge is also a little bit magical – a mesmerising sight as the first rays of the sun filter through the lush evergreen foliage with native bird song abound.
And if you want a longer challenge, you can take on the 11km Manawatū Gorge one-way track that follows part of the Tawa Loop but continues on top of the track high above the river and gorge below.
Before you turn off from the Tawa Loop, make sure you pay homage to the mighty Whātonga, a majestic ancient Māori Chief nestled within the lush green forest. Over 6 metres tall, this impressive steel structure is an artistic feat to behold as it looms over ancient trees, a beautiful reminder to do our bit to appreciate and preserve the natural world.
Day 2: Sledge Track
Swimming holes, waterfalls and even a Love's Crossing, the Sledge Track is another popular spot for active explorers wanting to enjoy some time in the great outdoors within easy driving distance from the city.
Located behind Massey University up along Kahuterawa Rd, the Sledge Track is another hidden gem for hikes in Manawatū. With its fairly easy to moderate 10.9 km return track, you'll be able to escape into pristine wilderness within a 20 minute drive from Palmerston North city.
The Sledge Track is also dog friendly so you can take your four legged pal with you – on a leash of course. You begin with a relatively easy start with the first 30 minutes following the river as you wind past scenic picnic spots and swimming holes.
From the Argyle Rocks, the track begins to steepen towards the Toe Toe junction for the next 1.5 kms.
There's a lovely swing bridge you'll come to along the way which also offers an alternative loop journey over the gully and through the popular Arapuke Mountain Bike Park. However, these are shared paths so take care and be aware of mountain bikers traveling at speed.
From Toe Toe junction, you have the choice between the Platinum Mines Loop Track or the Otangane Loop Track, both of which are suited for more experienced trampers.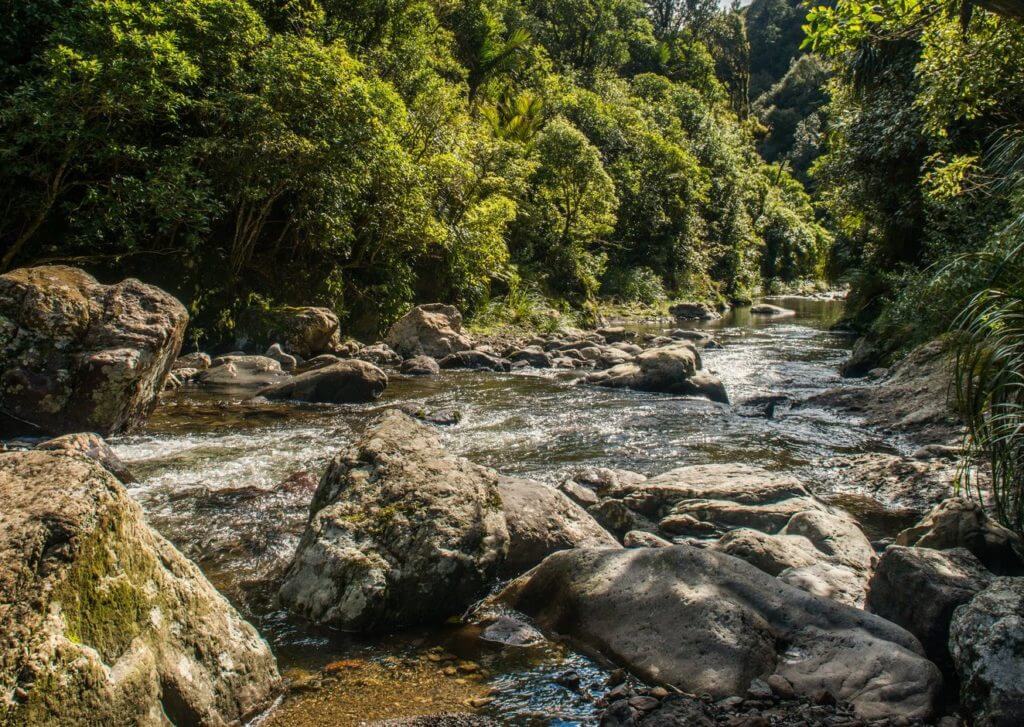 Located in Northern Manawatū just outside the charming village of Āpiti, the 4.4 km (2-3 hrs) hike up to Rangiwahia Hut Track is a great day hike or overnight hut experience offering dramatic views as far as Mt Ruapehu.
Once renowned for its skiing history, the track today is well-graded and takes you through some incredible vistas – a stunning arched wooden bridge, deep ravines, red beech forests and enchanting Middle Earth scenery that will take your breath away.
The quiet serenity, the sweeping native bush, the Rangiwahia Hut Track has a steady incline to the tussock tops along the Whanahuia Range but absolutely doable and definitely worth the effort.
For those keen to stay overnight, Rangiwahia Hut is a serviced, cosy 12-bunk hut with water from tap (not treated so you'll need to boil before use), a wood burner (firewood is supplied) and the most incredible views of Mount Ruapehu. The skies during sunset are rather spectacular, a pretty little waterfall and even the beautifully painted toilet facilities are Instagram worthy.
You'll need to pack extra layers, bring your own food, as well as portable cooking stove and book online from the Department of Conservation website to make sure you get a bunk for the night.
Make sure to read up on the Land Safety Code so you can make the most of your wilderness experiences in Manawatū.