Studio Rubix, founded by Kate and Toby Morland in 2014, has a clear vision to empower the people of Manawatū to be the healthiest and happiest in the world. Their team provides specialised personal training, reformer pilates and nutrition counselling.
Kate, a Registered Dietitian, mum of four little girls and avid foodie also runs cooking classes, writes a recipe blog on their website and shares nutrition tips via their social media channels.
Studio Rubix is an uplifting, friendly and supportive environment that welcomes people of all ages, with varying degrees of health and fitness. Kate's approach to nutrition is to make it uncomplicated and help people create healthy relationships with food. Being a busy woman, you'll find Kate encourages practical, time saving recipes that promote a varied, colourful and flexible way of eating. Her favourite food is haloumi.
Kate shares her dhal recipe for you to try at home.
Lentil & Cauliflower Dhal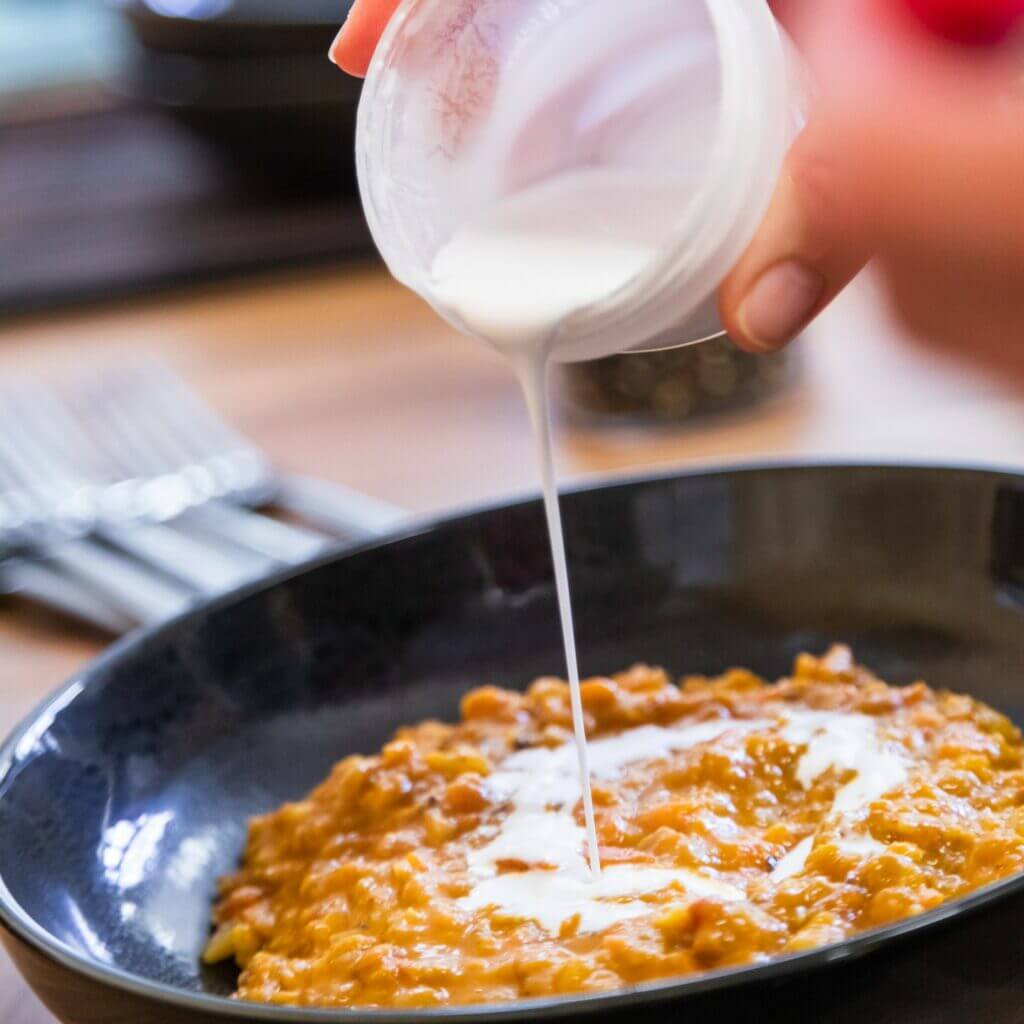 Lentil & Cauliflower Dhal
1 onion finely chopped
2 clove/tsp garlic
1 Tbsp ginger (if you have it)
2 Tbsp oil
1 tsp turmeric
1 tsp ground cumin
1 tsp ground coriander
1 cup chopped cauliflower
1 carrot grated
1 cup red lentils (they cook faster, but yellow are nice too)
1 cup boiling water
1 tin chopped tomatoes
1/2-1 tsp salt
1/2 tin coconut cream
In a saucepan heat oil, fry off onion, garlic and ginger until soft
Add spices and cook for 1-2 minutes, stirring so they don't burn
Add cauliflower, carrot, lentils, water, tomatoes and salt and continue to cook for a further 10-15 minutes until cauliflower and lentils are soft to bite, and liquid has absorbed
Add salt to season. Lastly, stir through coconut cream
Top with a drizzle of yoghurt and seeds, and serve with chapatis as instructed below
Wholemeal Yoghurt Chapatis
1 cup plain or wholemeal flour
1/2 cup natural yoghurt
1 tsp baking powder
Pinch salt
Mix all ingredients with a fork
Roll out until thin and slice into pieces to cook
Cook each side in a frying pan with a little oil until browned
Check out Studio Rubix's website for more delicious, nutritious recipes.