Whether you're looking to get away from it all, refresh in the great outdoors, or reconnect with friends and whānau, Manawatū has all the right ingredients for an unforgettable experience.
Big Beautiful Beaches
Manawatū is landlocked, it hasn't got any sand or sea… kidding! We may have been keeping it quiet so we can selfishly savour our big rugged west coast beaches and salty sea air for ourselves, but now, we think it's time to share!
Himatangi Beach
A quick 30 minutes' drive from Palmerston North city will take you to the sleepy beach town of Himatangi. You can park up on the wide-open beach and seep in the sun as the little ones get their fill of sand and surf.
While there, make sure to share the history behind the name, with Himatangi stemming from a legendary warrior chief, Matangi, who fished and killed a taniwha that was eating his relatives. The verb 'Hi' was added to his name as it means 'to fish,' giving us 'Himatangi.'
To curb those hunger cravings from the all of the sea air and swimming, stop in to the local fish and chip shop to get a whopper of a meal that you can enjoy on the beach while you watch the sunsetting across the water.
If you're looking to make a trip of it, stop in for a night or two at the award-winning Himatangi Beach Holiday Park and immerse yourself in this special little place.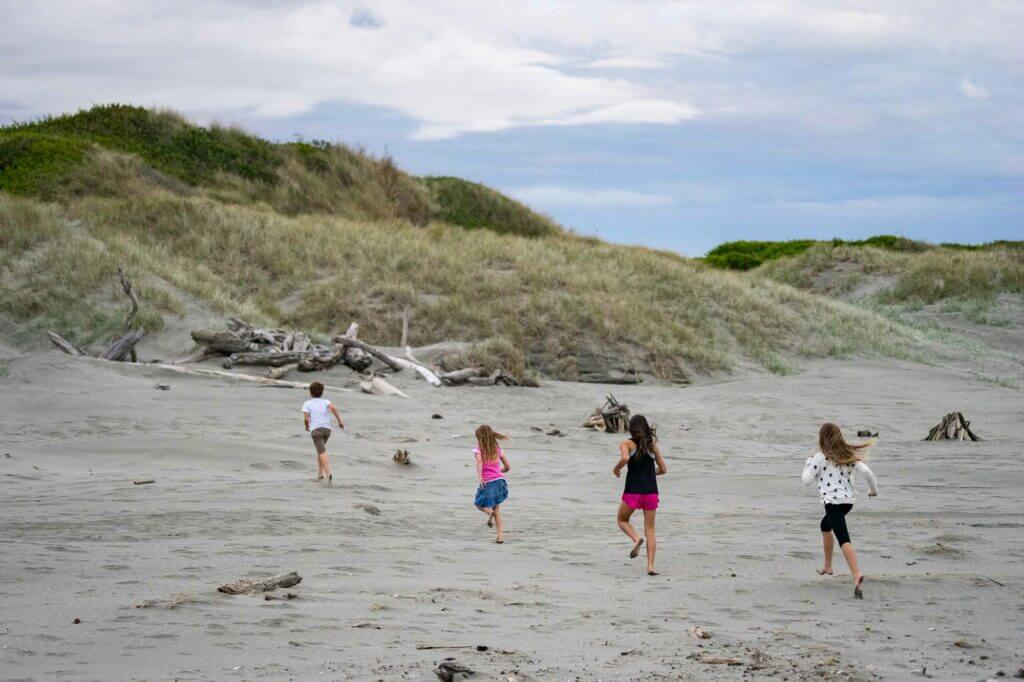 Foxton
Just down the road is the adventure playground of Foxton Beach. If you and the kids are looking to blow off some steam and with some action-packed fun, make sure to drop into Off The Loop, New Zealand's Premiere Cable Park.
Take a ride on their private lake where you can try your wakeboarding tricks on the ramps and rail slides if you're up for the challenge. If wakeboarding isn't your thing, why not try their paddle boarding, kayaking or even water polo. The newest addition to the park is the massive Aqua Park Obstacle Course, where you can slip and slide your way through this mega inflatable playground.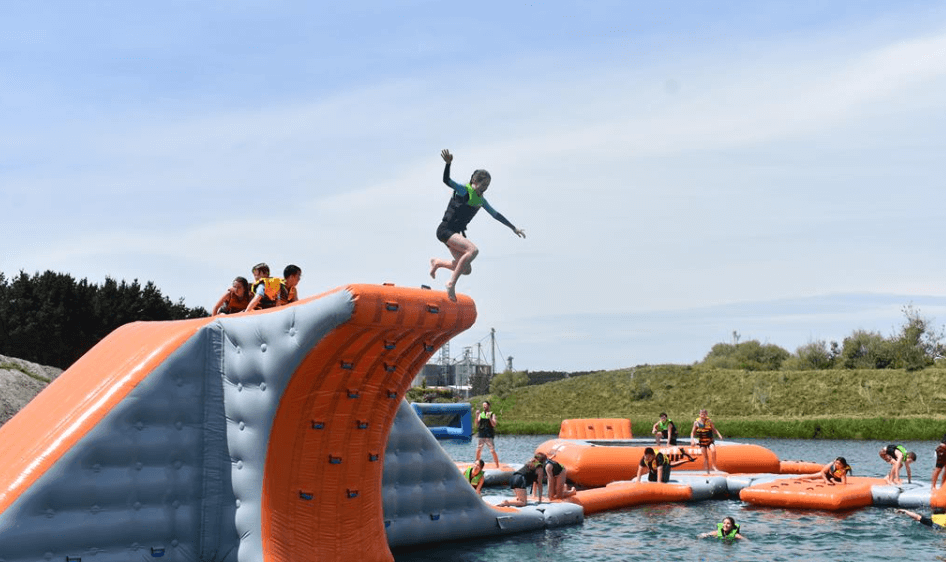 For a multi-cultural immersion, filled with tales from the past, take your clan to Te Awahou Riverside Cultural Park to discover our Māori, Dutch and pioneering history.
Reflect on your own heritage and family roots as you experience hands-on, living culture, around the park-like grounds from museums, to climbing a windmill, talking to the master carver and hearing the flax stripper machine roar. The centrepiece of this award-winning setting is Te Awahou Nieuwe Stroom.
Finish off the day at one of Foxton's newest restaurants, the Ocean Beach Eatery where you can enjoy a delicious meal either inside or in their outdoor garden.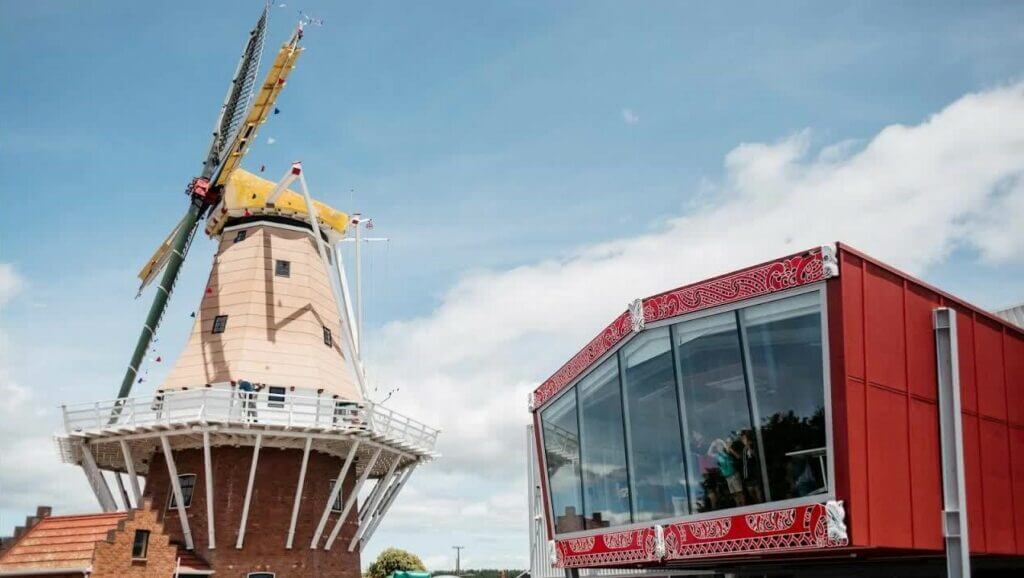 Country Charm
There is something so special about hopping into the car and taking off on a road trip. What makes that even better is when you're guaranteed stunning scenery which will leave you wanting to pull over after ever bend to take it in, coupled with places to stop along the way for fun, food and friendly faces. Check out The Country Road routes to plan your road trip.
Feilding
A must stop is the friendly town of Feilding sitting at the heart of rural Manawatū, where you'll be met with red-bricked pavements, stunning flowerbeds, and a warm elegance that reminds you why it has been voted 'New Zealand's Most Beautiful Town' 16 times.
On a Friday, the center of Feilding really comes alive. In Manchester Square, the award-winning Feilding Farmers' Market is humming with local producers offering artisan products, locally grown goods and delicious treats.
Just down the road you can experience one of New Zealand's oldest traditions that dates back to the 1880s, at the largest sale yards in the Southern Hemisphere. Take a guided tour from a local drover who will take you through the sheep pens and cattle rostrum to witness the live auctions in action.
For a look into our pioneering past, visit the Coach House Museum, a place where stories about the good old days come thick and fast. From horse-drawn carriages and interactive displays, to the extraordinary collection of John Deer tractors on show, a real treat for those little farm enthusiasts.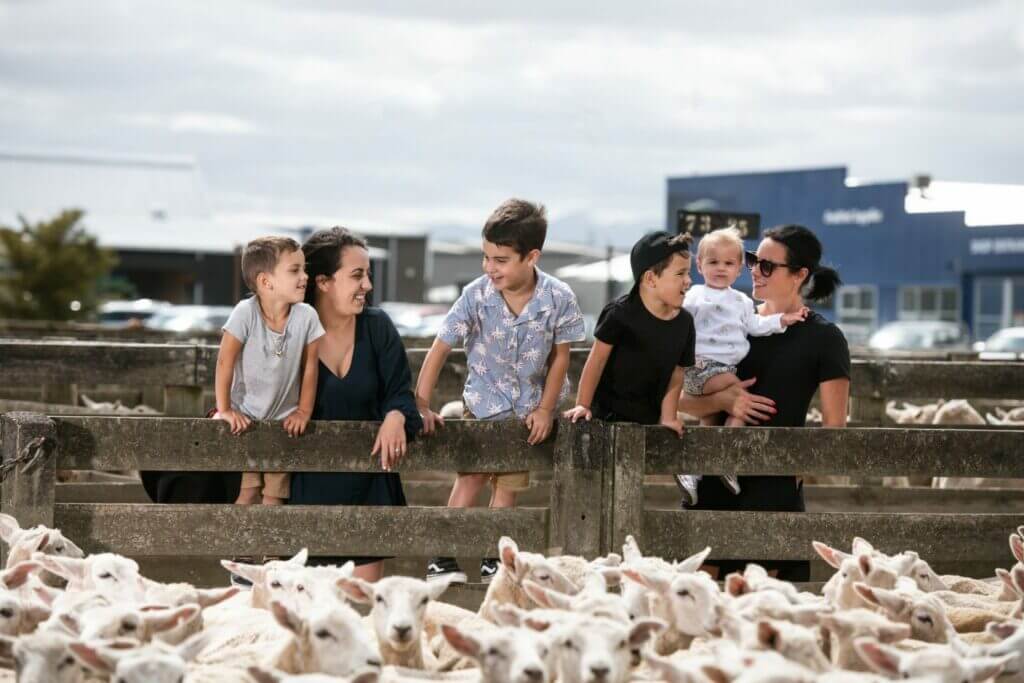 Kimbolton
If you're after a picture-perfect picnic spot, Kimbolton has some of the best in the country! At the heart of this quaint little village, world renowned for its glorious gardens, is Heritage Park. Large lawn areas, interlinking ponds and rhododendrons from around the world make this a colourful playground for the senses. If you need to top up your picnic, pop into the onsite Chalet for a coffee or tea which is open to visitors from September to December.
Cross Hills Gardens is the queen bee of Manawatū gardens with over 2,000 varieties of stunning rhododendrons and azaleas in full bloom over Spring. With many gardens connected through the wide-open paths, the kids can scoot along the way to find their favourite flowers or the camellia maze where they can dart and dash their way through this huge flower puzzle. Keep the energy topped up at the onsite café and pick up a memento from the shop.
After you've got your latest family photo or Instagram pic in the bag, drop into Hansen's Café to try one of their delicious classic or gourmet pizzas, all made onsite.
Extend your stay and treat the kids to a special overnight experience in one of the cosy and quirky Tiny Homes just off the village centre.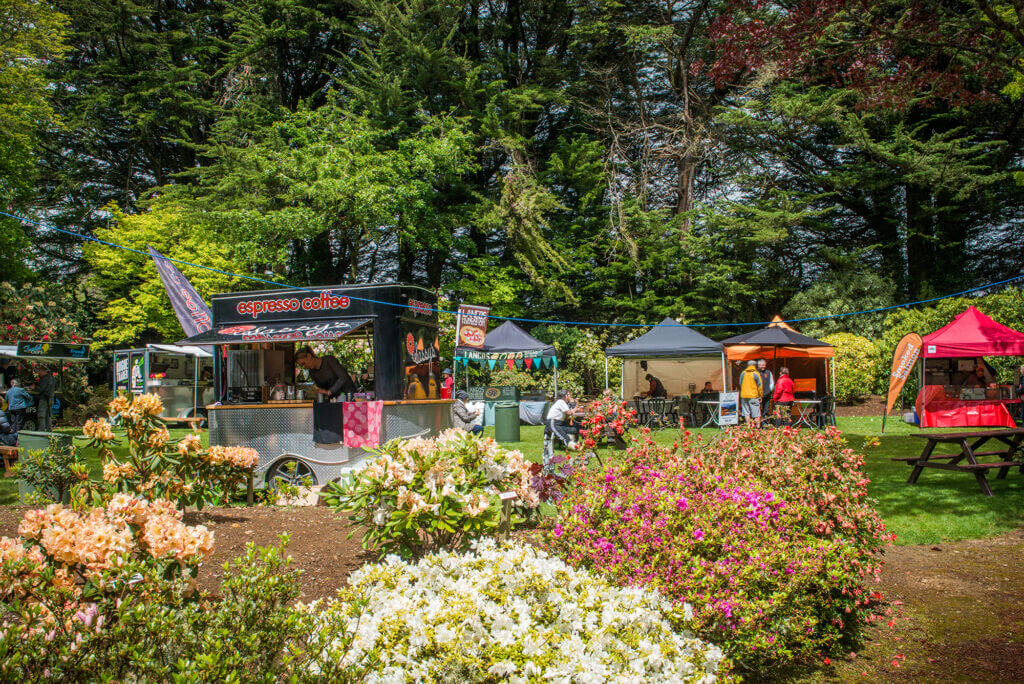 If you're after the best of both and want to pair your off-the-beaten trip with some city experiences. Palmerston North is where it's at and has heaps of family friendly stops waiting to be discovered.