Artisan Kitchen has been created by Chef Mark Harman, who has had a long and successful career in the hospitality industry, cooking in fine dining restaurants across the world.
Mark now brings his expertise to Artisan Kitchen, catering for weddings, events and corporate functions and dinners across the wider Manawatū region and offering cooking classes and home delivery heat and eat meals.
Mark has been a chef for over two decades and has an impressive resume, having worked in some top spots both here in New Zealand and abroad. Mark is the runner up Manawatū regional chef of the year three years' in a row. He cooked for the Queen of England, while employed as sous chef to renowned chef Nic Watt at the prestigious Huka Lodge, worked at five star luxury resort Amanyara in the Bahamas, cooking a fine dining menu for celebrities and ran well-known chef Peter Gordons' restaurants Dine and Bellota in Skycity at The Grand Hotel in central Auckland.
Mark shares his Potato Gnocchi recipe for you to try at home.
POTATO GNOCCHI WITH TOMATO AND BASIL SAUCE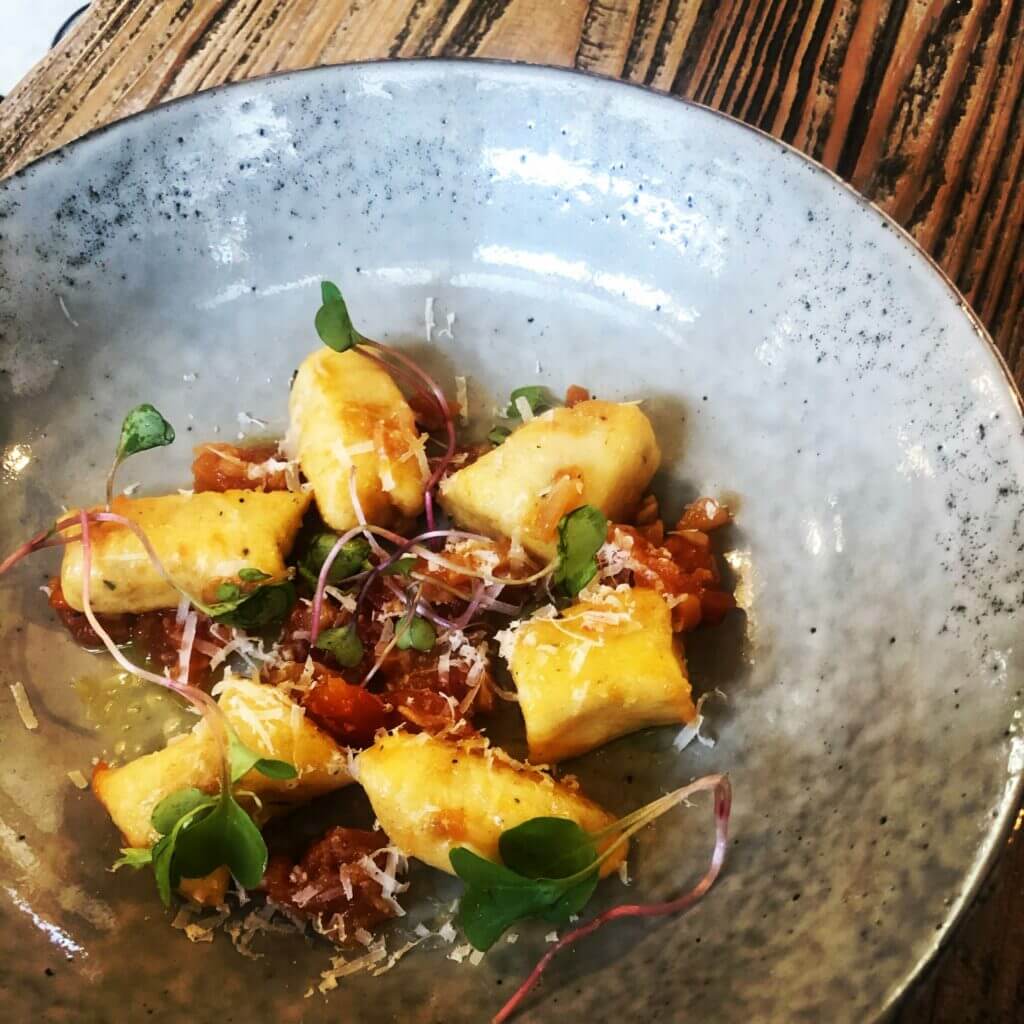 Potato Gnocchi
50g parmesan (grana Padano)
10g sea salt
30g thyme
500g Agria potato
100g flour
5ml extra virgin olive oil
2 egg yolks
Boil the potatoes in salt water until tender (do not overcook)
Drain water and place over the heat, to evaporate the excess liquid
Run through a mouli or sieve, allow to cool
Weigh 300g and combine with other ingredients
To form dough, divide into four pieces, flour chopping board and roll each ball into 1cm thick sausage, then use a pastry scraper to cut into 1 inch pieces and shape with paddle
Blanch the gnocchi in salted water until it floats
Cool in ice water, dry off, drizzle with oil
Saute in a pan with butter or store in a container and freeze or refrigerate for 3-5 days
Fresh Tomato and Basil Sauce
6-8 medium ripe tomatoes
3 shallots diced
2-3 garlic cloves chopped
2 Tbs balsamic vinegar
1 Tbs coconut or brown sugar
Olive oil for cooking
Handful of fresh basil, chopped
Salt and Pepper
Score the tomato skin and blanch in boiling water for 15 to 20 seconds, refresh under cold water
Peel tomatoes, cut into quarters, remove and discard the seeds, cube the segments
Sauté the shallots and garlic until softened
Add the cubed tomato and cook until soften
Add the coconut sugar and balsamic vinegar
Season to taste with salt and pepper
Lastly add the chopped fresh basil and serve with fresh pasta or gnocchi