When sheep and beef farmers Angus and Sarah Gilbertson first opened glamping six years ago neither could predict how wildly successful sharing their piece of paradise would be.
Sarah Gilberston had three children under three, her youngest just six months old, when her and husband Angus were throwing around ideas for their future. While he was the third generation running his family's 1500 acre sheep and beef farm in Waituna West, Manawatū, they were exploring business ideas for Sarah.
"Life was already pretty hectic," laughs Sarah who had been working in publishing in Feilding before they started a family. Commuting 30 minutes to town to work while juggling the farm and three children was not going to be an option, so the pair were discussing what could work for their lifestyle when a Canopy Camping advert asking for landowners caught their eye. "I wanted something that would utilise my skills and interests and work for us as a family."
Glamping was a relatively new concept when the couple began investigating in 2012 and while Angus took a little more convincing, Sarah knew her background in tourism and hospitality would be the perfect skillset for a venture like this. "I'm a big believer in knowing when something feels right and it did, so we just went for it." Canopy Camping is a carefully curated collection of boutique glamping sites in secret hideaway spots on privately owned land. The term glamping derives from camping, but guests are treated to a few more luxuries like beds, lush linen, heating and bathroom facilities.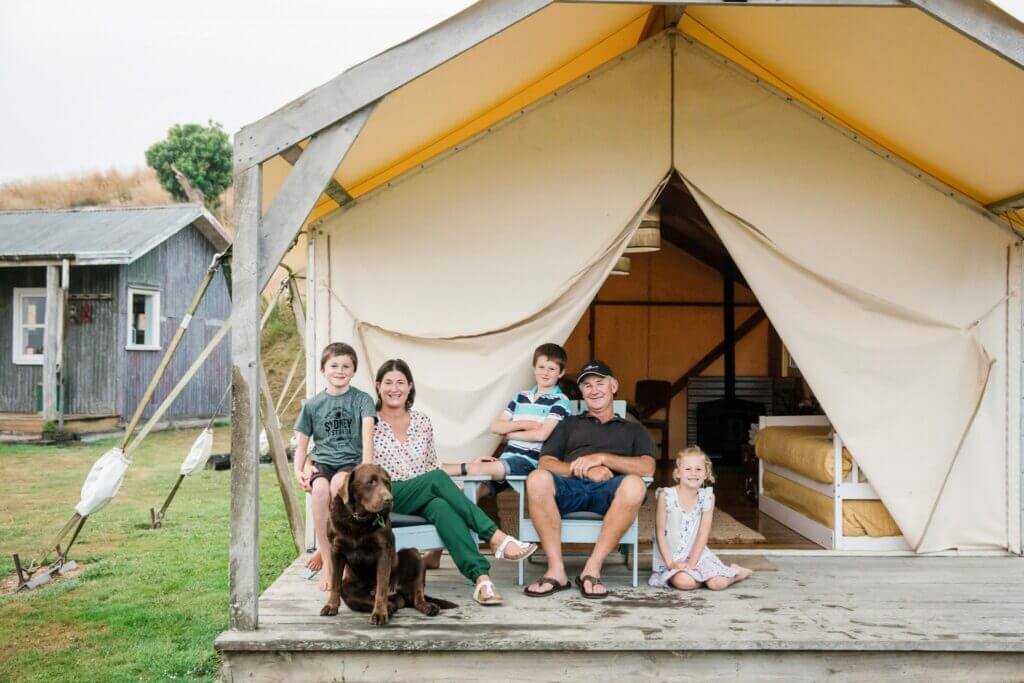 Today, the Gilberston's off-the-grid glamping site is a kilometre from their house, sheltered by the top of a ridge, hence the name Ridge Top Farm. The views stretch for miles across dramatic hill country farm land and Mt Ruapehu and Mt Taranaki dominate the landscape on a fine day. Their country-themed campsite can sleep up to 10 and boasts a luxury safari tent with a wood burner, a rustic stylish hut, camp kitchen and bathroom, and two cast-iron baths that are tucked away in a private nook. From the rustic furniture to the crockery, the finishing details are a nod to Gilbertson's impeccable style.
Running two businesses – the farm and glamping – is a family affair and the couple's three children Tom, George and Pippa, aged seven to 10, are keen helpers. From stacking wood to mowing lawns and cleaning the glamping site, the kids love being involved and playing host to visitors. The kids also lend a helping hand on the farm. With 4,000 sheep, 300 cattle, free range chickens, farm dogs, and pet sheep and goats, there is no shortage of jobs. "They see us working really hard and by having them involved it gives them an appreciation and understanding of how a business works."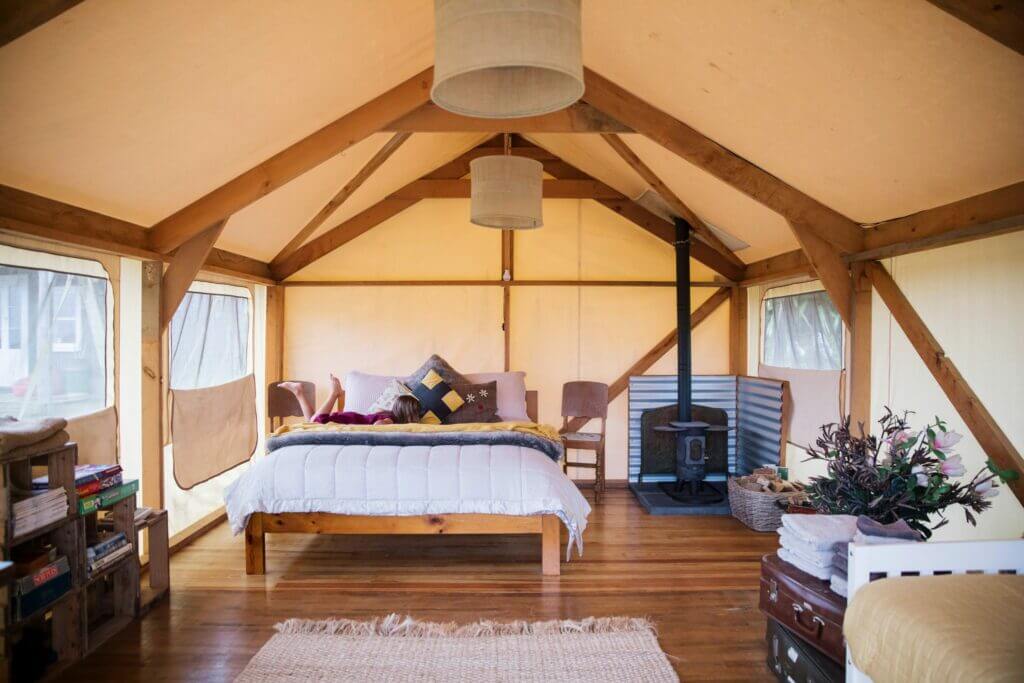 Gilbertson's childhood was similar to that of what she is providing her children. She grew up on a lifestyle block in Wairarapa before shifting to Wellington when she was 12. Following a degree in tourism her career took her to Auckland but the idea of living in the country was never far from her mind. "Country life has always been in my roots and I often wondered if I would end up living rurally." Little did she know meeting Angus while visiting her sister in Feilding one weekend would be what turned her dream of living rurally into a reality. After a two-year stint of long distance between Manawatū and Auckland, she made the move and they were married in 2008.
A self-proclaimed lover of good food, coffee and wine, she has not let living away from a city hinder her passion. Instead, she is now sharing it with guests, offering a fully-catered package to those who want to arrive, switch off and relax. "I am a real foodie which is why I introduced the food element to the business. I love reading and researching different recipes and having a business hosting visitors means I get my fix of being connected to people."
"We have definitely become more savyy," she says of balancing family and business life. Over the past six years they have fine-tuned the business to make it work for them and have learnt a lot about the different kinds of experiences visitors are after. Gilbertson says domestic guests are happy to be left alone, while international visitors are after a completely different experience. "They [international guests] love interacting with the family and learning about farming life and how we raise the animals." This led them to expand their offerings to walking tours across the farm, sheep shearing demonstrations, clay bird shooting and they now also host corporate packages too. And while the farming operation is year-round, they only run glamping between November and the end of May to ensure they can get away too.
Ridge Top Farm is just one of a growing network of glamping sites and farm stays in Manawatū, a region known for its understated beauty, genuine locals and off-the-beaten track experiences. Here, visitors do not just observe locals' way of life, they become immersed in it. "People absolutely love our surroundings and it makes them realise how good it feels to tap out of the crazy hustle and bustle of everyday life." 
For anyone toying with the idea of glamping as a secondary income for their farm, Gilbertson says just go for it. "It is a fantastic way to earn money and showcase your farm. You can easily take for granted what you have on your own backdoor step. People come here and are always just blown away. We love being able to share our piece of paradise with people from all over the world."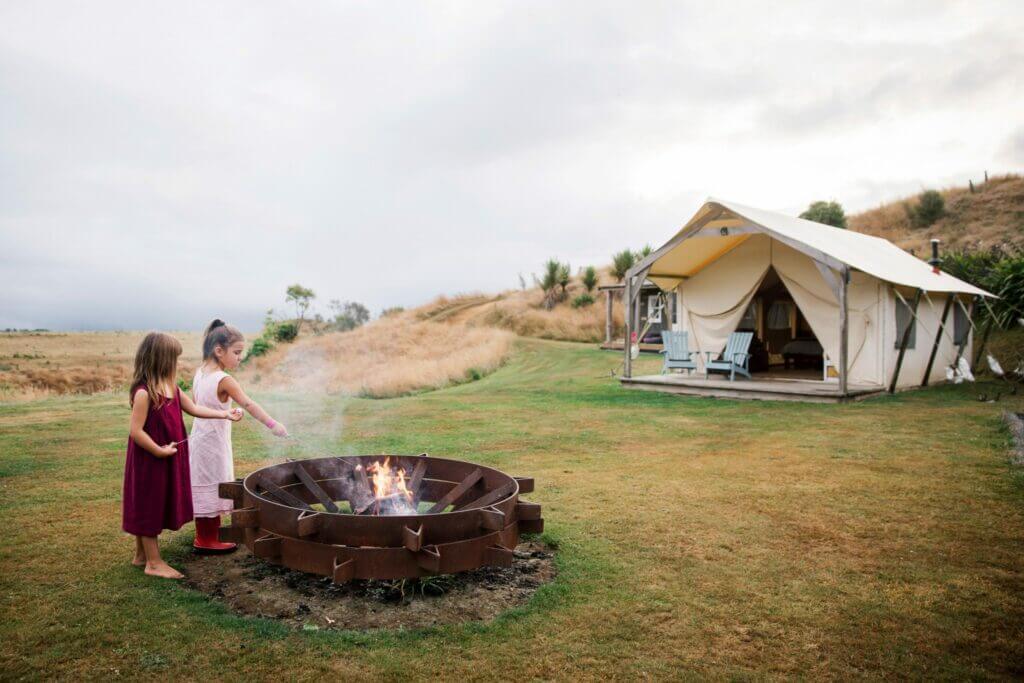 To combine the tranquility of glamping with a true 'Kiwi farm' experience, book your Ridge Top Farm getaway here.
Words by Manawatū local JEMMA BRACKEBUSH FOR SHEPHERDESS MAGAZINE